TUNIC MATERIALS
Exclusive Georgette Tunic, Cotton Kurtis, Linen Kurtas, Silk Tunics by Snehal Creation :
Women Tunics have become so common and popular that it is available in different materials such as cotton tunic, georgette tunics, chiffon tunic, linen tunic and silk tunic. These tunics are so soft, easy to wear and comfortable.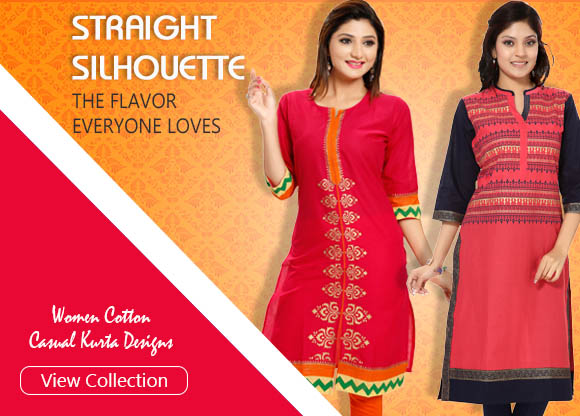 The cotton kurta is an excellent wear for summer. The cotton kurta gives a warm and comfortable feel when you wear. Even during occasions such as office parties or family get together, cotton kurtas are too attractive and makes you feel simple but beautiful too. These cotton kurtas are designed in various patterns and colors to attract customers. Cotton tunic comes in different lengths such as above knee, long top, and short top. Similarly, the sleeves length of cotton tunic can either be long one or sleeveless. You may look when you wear it.

Yet another material that is smooth and soft is silk tunic. These silk tunics are attractive and modern. There are different materials under silk such as crepe silk and this gives the desired effect. Generally, silk tunics are found to match with almost all the modern pants, legging and even 3/4th pant. It looks fantastic in its fashionable look. Also, silk tunics come in different sizes and lengths.

Chiffon tunic is other material that is easy to wear. Chiffon tunic is basically a single thin material that gives a chic look. These are best preferred outfits by women as it makes you look young, cool, cute and slim, of course. Chiffon tunic comes in simple and pleasing designs so that it can be worn in different places. The hand part of the chiffon tunic is generally made as transparent and this is the attractive feature found in it. The material is quite transparent and you will look outstanding and sexy too, on wearing it.

Linen tunic is suitable for women of all ages. Linen tunic can be worn by placing a belt over it so that you will look slim or as such. This can be categorized under traditional as well as modern wear. The colors of linen tunic are usually mesmerizing and warm too. This gives a great level of comfort. On wearing linen tunic, you will surely look gorgeous. The material is actually thick and is not transparent so that people of different ages wear it without any shyness.

Thus, all the tunics made of the above materials such as linen tunic, chiffon tunic, cotton tunic, silk tunics and cotton kurtas and Georgette Kurtis are the perfectly designed tunics specially made to suit all the occasions and also to all the people. You will get a cute and trendy look. Also, they are comfortable and cool and very resistive in all the seasons. So, start using them at this moment and look young !